1 MW Waukesha L7042GL Natural Gas Generator Package - Fixed-cost Turnkey Solution (Watch VIDEO TOUR)
1 MW Waukesha L7042GL Natural Gas Generator Package - Fixed-cost Turnkey Solution (Watch VIDEO TOUR)
Notes:
1 MW of Power, 1 Fixed Price, 8 Weeks & GO!
1 MW Generator Turnkey Solution Summary
As an alternative to buying this generator as-is, we've prepared and can execute a full turnkey cost-saving power generation solution. Watch the video included and review the turnkey summary below.
Watch the
turnkey solution video overview
on IronHub's YouTube channel: 
https://youtu.be/BESJVsN002M
Virtual 3D Tour
View a Matterport virtual tour:
https://my.matterport.com/show/?m=xDwH477y6MB
Objective: Supplying, delivering, fully installing, and commissioning a 1 MW Waukesha 7042GL natural gas powered complete prime power generation system.
Costing: Project will be executed with total cost certainty rolled into one up-front fixed price of $842,000 + taxes (capital lease and rent-to-own available). Everything is included in the one price (project scope available upon request); from the cost of the generator, site work and all the way through to commissioning.
Project Timeline: 8-10 Weeks from today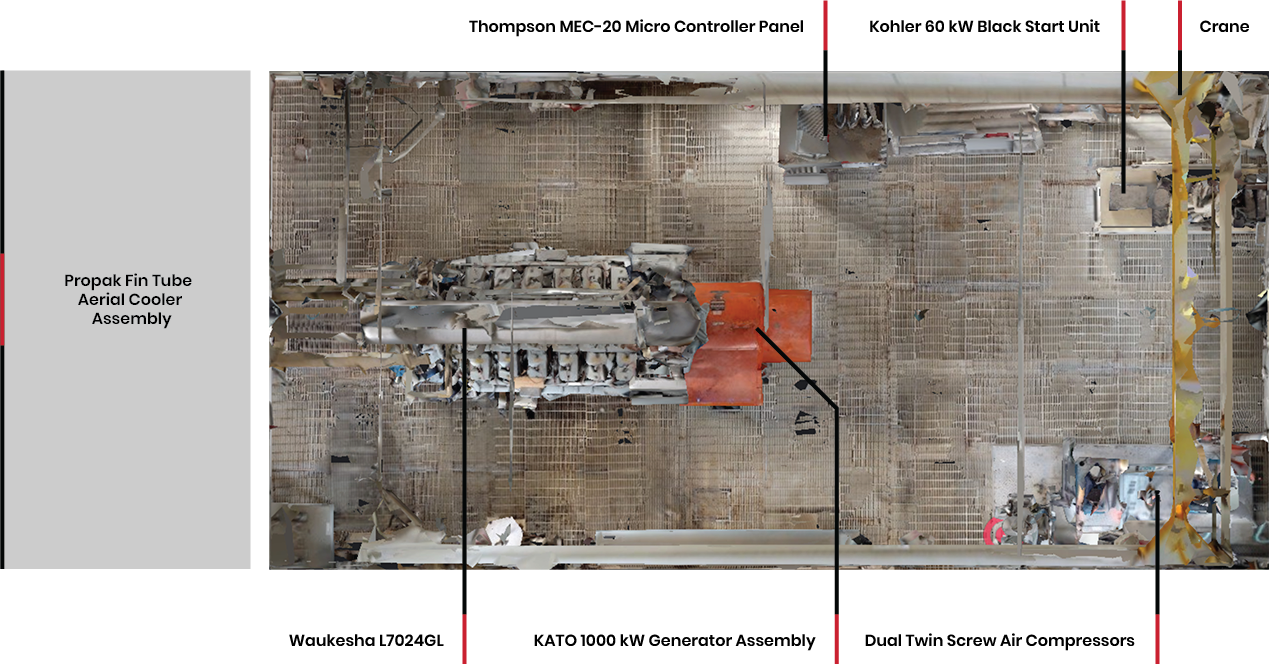 GENERAL PACKAGE CONFIGURATION
Waukesha L7024GL
VHP, 12 cylinder
Rated 1472 HP – 1097 kW @ 1200 RPM
Rated Continuous Service
Fuel – Natural Gas
Propak Fin Tube Aerial Cooler Assembly
Jacket water section
After-cooler section
Belt Driven Fan from Engine
KATO 1000 kW Generator Assembly
6P6-1900 1000Kw/1250 KVA
277/480/3/60 VAC
1504 Amps
Rated Continuous Service
Thompson MEC-20 Micro Controller Panel
Synchronous Generator/Engine Controller
Woodward Governor Control
Main Breaker
Engine Monitoring Annunciator
Kohler 60 kW Black Start Unit
Engine – John Deere 4045TF150C
Fuel – Diesel
Generator – Kohler 60REQZI
62 kW
277/480/3/60 Vac
71 Amps
Eagle Instrument Air Compressor
Qty. 2 screw compressors
Qty. 2 TECO 20 HP, 480/3/60 VAC motors
100 Gallon Storage tank
Automated air dryer assembly
Building & Skid
Length 40'
Width 20'
Height 22'
Weight 100,000 lbs.
Qty. 4 Lifting lugs on each side of the skid/building assembly.
Additional Cooler Dimensions
Width 20'
Length 10'
Height 12'
Inquiries
Contact us to learn more about this exciting 1MW turnkey and fixed-cost solution.
Listing Title additional text:
- Fixed-cost Turnkey Solution (Watch VIDEO TOUR)